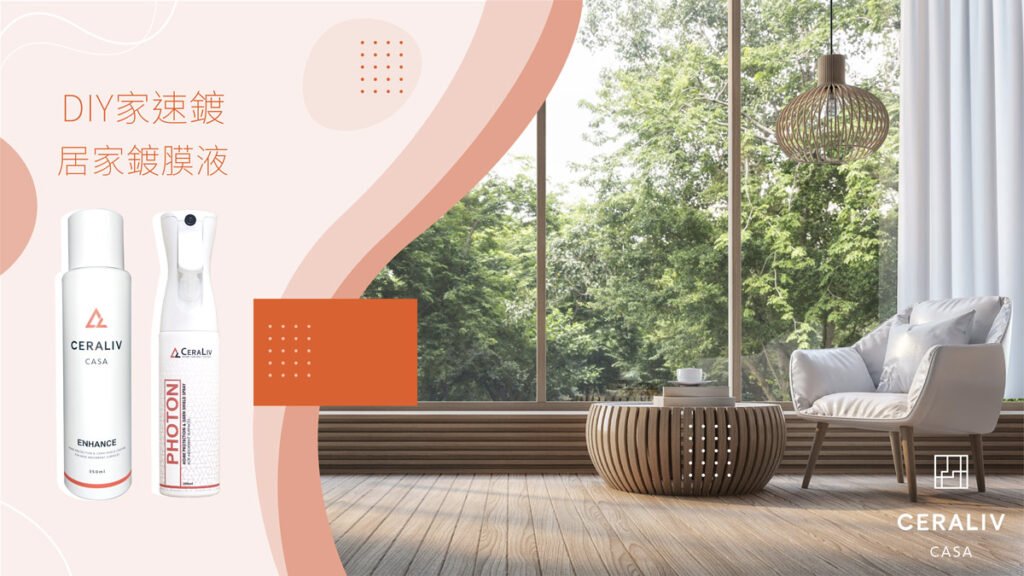 The Covid 19 third level alert extended until 6/28, together with the announcement of summer vacation's early start, was sad news for many parents. Kids can be very energetic, and while painting and drawing on walls stimulates their creativity, is it also a problem for parents who will follow up cleaning.
In recent years, many cars will undergo a coating process soon after buying. That's because a coated car is easier to maintain, reducing the number of times it needs to be washed, and preventing scratches and wear marks.
Some manufacturers bring years of experience of car coating, and apply it to daily life. No matter it is the residential coatings that need professional applicators, or DIY coating products, the CERALIV which is created by the hidden champion CHOOSE NanoTech Co. Ltd's can do them all.
The Value Of A Coating Is Not Words But Facts!
CHOOSE NanoTech is committed to develop high performance nano-ceramic coatings, which are known for their high hardness and ultra-thin film technology, and provides the best solutions for surface protection in various fields. They are widely used in semiconductors, petrochemicals, heavy industry, aerospace and maritime affairs, automotive beauty industry, and home coatings, and sold in more than 97 countries around the world. Rodin the thinker, which is stored by the University of Asia, Hsuehshan tunnel, the marble sculptures of the Chi- Mei Museum, and the SUPER GT SUBARU, are just some examples of CHOOSE coatings in Taiwan and abroad. Unlike some other coating manufacturers who simply repack and sell already existing products, CHOOSE inherited years of experience of the semiconductors industry, and set up the industry's highest specification laboratory.
It introduced the world's most advanced equipment, and developed the core competitiveness of the company. Continuous breakthroughs and innovations, and the use of the original Revolutionary Bonding Technology (RBT), Liquid Ceramic Technology (LCT), and Chemically Strengthened Ceramic Technology (CST) allow the company to produce high transparency, high hardness, ultra-thin film and ultra-wear resistant high performance coatings.
The Need Of Home Protection Marks The Birth Of CERALIV
After accumulating many years of experience in the industrial field, CHOOSE has overcome the problem of high performance coatings that require high temperature to cure that successfully providing coating that has high performance and thickness at the same time. It has developed and produced the world's first automotive nano ceramic coatings, and established the industry's 9H hardness standard, which impacted the automotive beauty industry, while maintaining the spirit of innovation. CHOOSE also developed new services for residential coating to protect every corner of your home, solving the difficulties encountered by building materials, and creating a safe, comfortable environment. CHOOSE will continue to develop the world's leading coating technology, hoping to extend protection to your and my lives.
Praises From The CHI-MEI Museum
The stones that we see on a daily basis, each one of them are actually the result of hundreds millions of years of natural collision, extrusion, and quenching process. For every stone, what might look like just an ordinary pattern is actually extremely valuable, a treasure given to us by nature. However, the vast majority of stones like the world famous marble are difficult to maintain. Once liquids like water and oil penetrate the surface, they will immediately produce stains that are difficult to remove, which will have a permanent impact on the stone.
In order to facilitate the usage of stone, CHOOSE NanoTech developed a high performance transparent coating that forms a dense protective layer on the stone surface, isolating it from contact with damaging objects. This prevents water and oil stains from penetrating into the stone, and makes the surface easy to clean. Moreover, the protective layer will not affect the original touch and brightness of the stone. In addition to the daily life stones, CHOOSE is also famous for outdoor large sculptures protection.
For example, the popular attraction sites "Apollo Fountain" and "Olympus Statue Bridge" outside the Chi-Mei museum are all protected by CHOOSE NanoTech high performance transparent coatings, which prevent the damages of long term exposure to sun, acid rains, and strong winds. Moreover, what makes CHOOSE coating even more appreciated is that their coatings take advantage of Taiwan's rainy weather to give outdoor sculptures a self-cleaning effect.
After years of research and development, CHOOSE has also overcome the problem of discoloration after long term exposure to UV, providing protection that stays transparent permanently. This allowed CHOOSE to obtain the SGS accredited laboratory certification. Also, through the 1008-hours salt spray test it was proven that the coating protective effect can last up to 10 years in a natural exposure environment. CERALIV makes use of the same high quality material to produce the best coating solution for home decorations, allowing the user to have home the same level of protection just as the museum does.
CERALIV LAUNCHES THE HOME PROTECTION EXPERIENCE DIY PRODUCTS DURING THE COVID 19 PANDEMIC
CERALIV's vision is to provide services to families all over the world, so that they can enjoy the convenience of coating, and get back the time stolen by chores. In addition to which is designed for absorbent materials, will take care of other non-absorbent materials. is a very concentrated product, and this home protection experience group should give families an all-round protection. A common kitchen sink, or the glass in the bathroom, only requires two or three drops (1~2 c.c.) to be effective. Since it is sprayed, it is recommended to use it on clothes and shoes that are often worn to go out. CERALIV's DIY coatings are certified by the SGS European Union Green Label, and are non-toxic and harmless to the human body and the environment. One set of home protection experience only costs NT $ 999, so take advantage of the longer time spent at home with family, and experience the goodness of coating!