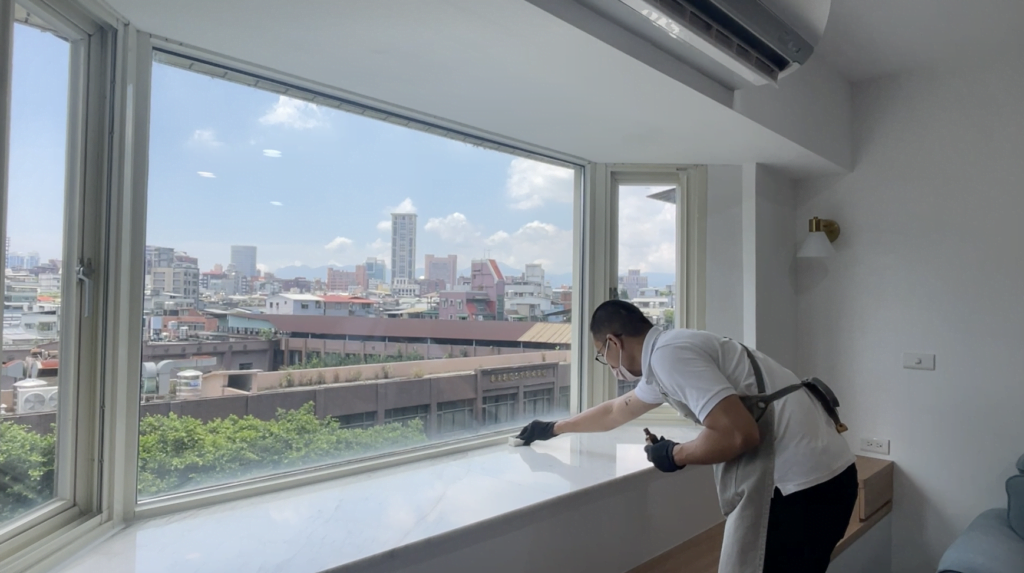 "To create a home, one must strike a perfect balance between functionality and aesthetics."
As the winner of the residential draw, Mr. Chen greeted us with a smile that couldn't hide his joy when we arrived. Having purchased a historic house in the Xinyi district, he spent a budget to renovate the house and create the most comfortable space for his family. Winning the CERALIV home coating draw allowed his entire space, which spans dozens of square meters, to maintain its initial perfect appearance more easily.
The most distinctive feature of Mr. Chen's home is the kitchen. Unlike others, he chose stainless steel for the countertop, which has a smooth surface and metallic luster that gives the space a sleek and professional personality, like that of a restaurant. However, during our site visit, we found that the stainless steel countertop was already covered in grease, water stains, and scratches, much to Mr. Chen's disappointment.
He chose stainless steel because he thought it was durable, but it turned out to be difficult to maintain. Indeed, contrary to popular belief, stainless steel countertops are susceptible to water stains, grease marks, knife scratches, and fingerprints due to frequent contact with food, leaving permanent stains if not cleaned promptly.
Scrubbing too hard will leave brush marks, making it impossible to maintain the sleek look. To give the kitchen the best anti-stain performance, we selected a different coating application method and were extremely careful during the coating process.
We hoped to maintain the sleek look while providing the kitchen with the strongest anti-stain protection and covering up dirt with the coating. As for other areas, we kept our promise and coated all the shower glass sinks, mirrors, dining tables, countertops, marble, and even the floor or entryway. We are dedicated to provide Mr. Chen and his family with a more comfortable living environment and him to enjoy the new home experience brought by CERALIV.
We thank Mr. Chen for participating in the CERALIV home coating draw at the #2022 International Building Materials Exhibition and congratulate him on being the winner!